Safety Display
Safety displays promote a sense of taking precautions or necessary actions with aline of electronic equipment. There are both the indoor and outdoor digital safetydisplays which can be customized with your business logo or message board forindividual purpose.With the safety displays, it becomes fuss-free to promote an accident-freeworkplace. In an organization, it motivates employees to join your workplace andwork safely. Moreover, companies nowadays are using safety displays encourageemployees to create a productive work environment to beat their previous record.Even, individual accomplishments, as well as company news, can be announced.

 There are different digital signs and displays across the market that helps anindividual as well as organizations to maintain their reputation and safety at thesame time. Custom-built LED safety displays send a constant stream ofinformation with regular updates. The first function of a safety display is to spread the safety information to thepeople around. However, they are also used to hang signs, safety instructions andother important things. It is capable to show the lost time, the number of dayspassed after the last accident recorded, staffing level, safety reminders andwarnings and latest company news.

 All you have to do is buy a product having crystal clear resolution made withleading-edge technology. Most importantly, there must be a proper installation, sothat the purpose of hanging safety displays can be met.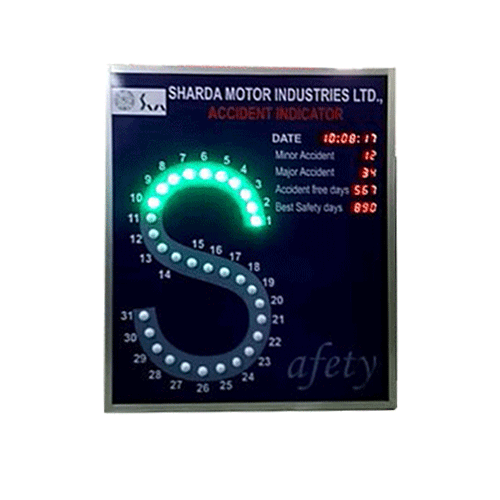 Safety is the most important parameter everywhere in Industries. Safety Display is placed at the entrance of factory/Company Reception Area. It consists of 31 nos. of 25mm Bi-Color LED. One LED represents one day like that 31 LEDs for 31 days. If any accident happened in a day corresponding LED will glow RED Color else it glow GREEN Color. This display can be edited by mobile through wi-fi. This display can be place at Indoor as well as outdoor.
Size of displays is custom made depending on customer needs.
Specification
Display shows safety information
Installation: Wall mounting/Hanging
Display Digit Size: 2" Seven Segment LED
Safety Indication LED: 25mm Multicolor LED
Color: Red, Green, etc
Case: Black powder coated Metal/Aluminum
Power Supply:100 to 270V AC